Yay for having Friday off this week! I love me a 3-day weekend... I would love it more if I wasn't still nursing a nasty virus! :P Yuck! There is lots on the to-do list today, including a dr appointment, tiling the bathroom (finally), getting the Christmas tree, putting out the Christmas decorations, rearranging the furniture in my daughters room so that her guinea pig isn't by the window because it's too cold there and then hopefully relaxing a bit! I *do* love that I get to put the featured artist up early today though! Woohoo!
Again, I have been picking randomly from the list of people nominated. T
his week's featured artist is someone who has nominated others for Featured Artist Friday, and now it is her turn in the spotlight!
NORMA JANEWAY!!!
\
Norma is just an amazing woman! She always has something nice to say and her nails are always beautiful. Though, I have noticed in reading she is often critical of her mani's when she definitely should not be! ;) She totally has my style when she does her nails so when I looked through all of her mani's to find one to post I was loving them all! haha Norma was nominated by Kathy Blixt and the first mani I will show you is the one Kathy nominated, and I chose the second one to show you! :)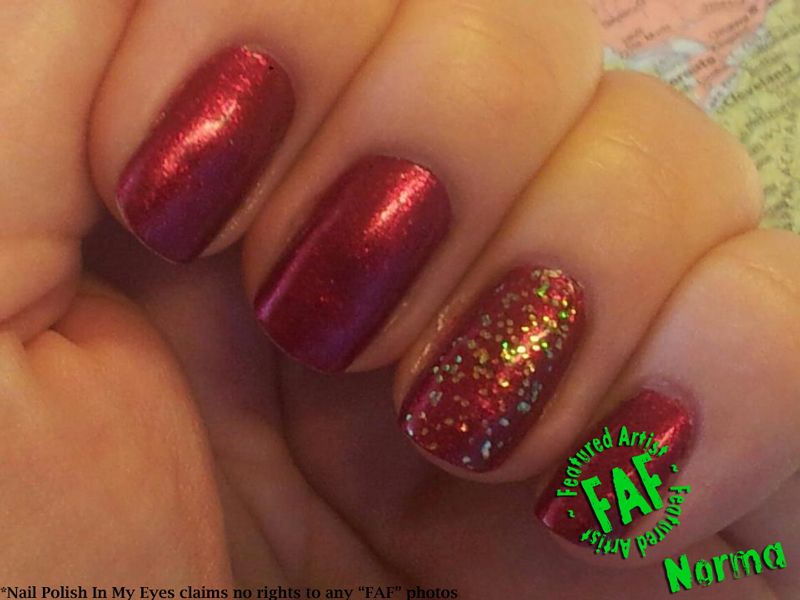 Norma used Color Club Berry Red for this and some sort of snowflake on the accent nail. I love this red on Norma! The accent nail looks great also! So pretty and perfect for this time of year!
The mani I picked is totes my kind of mani for sho!
Norma used Sinful Colors Moss Have and stamped with WnW Black. I still really need to get this green! Love it!!!
Norma's Friday in the spotlight is today, is it your turn next?? It could be YOU! Get your submissions in for
Featured Artist Friday
and then get your buns over here every Friday to see who the next artist is!
It could totes be you... Go do it
HERE
, pretty please? (with sugar on top?)
Hope you all have an amazing weekend and a superb December (can you believe tomorrow is December 1st?)!